High speed RUYI cord braiding machines
Be applicable to produce RUYI cord.
Except the round cord type, we also have flat, specific cord types, which can meet the demands of different types of cords.
We also have many other types of textile machines on sale. Such as the Automatic Double Spindles Weft Machine that has been mentioned in our main pictures parts. If you need,

Contact us! We will give you feedback within 24 hours.
COBS8-4A-W
1. Applicable to produce RUYI cord, which can be used to clothing decoration.
2. With high efficiency.
3. Easy operation.

Main Technical
Model

COBS8-4A-W

Carriers per head

8

Ribbon number

4

Horngear size

112.5

Machinesize in mm

1180*1000*1450

Motor power

3/4HP(0.55KW)

Voltage

220V-380V

Rpm.hornger

315

Carrier type

A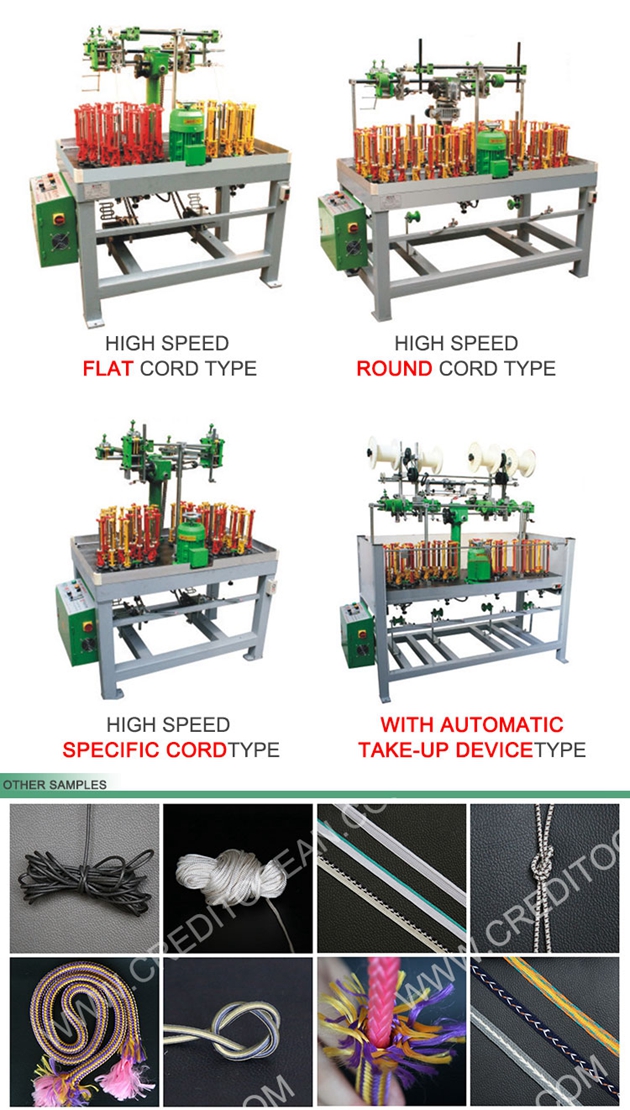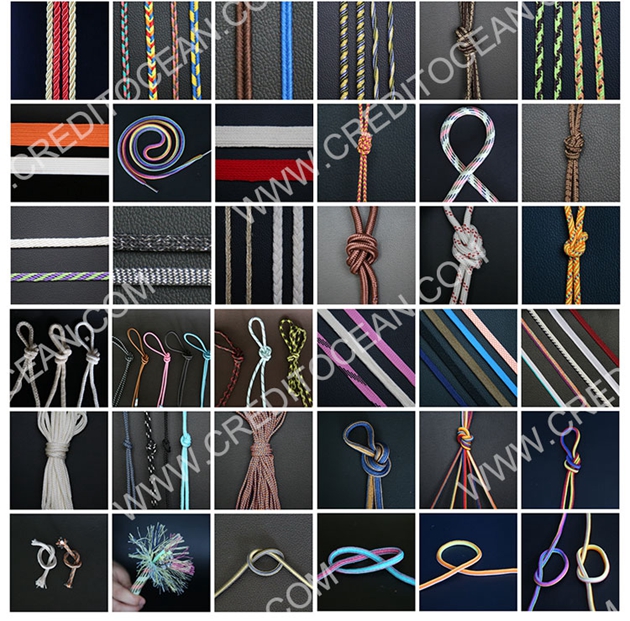 Credit Ocean
WHY: All sales for love, all sales for all clients pursuing happy life !
HOW:To do everything that we can do for anyone all life!
WHO: NINGBO CREDIT OCEAN MACHINERY &ELECTRO CO.,LTD.
WHAT:SHOELACE AND HANBAG LACE TIPPING MACHINE,ACETATE CELLULOSE FILM,METAL TIPPING MACHINE ,METAL AGLET,PLASTIC TIPS,CORD KNITTING MACHINE, HIGH SPEED BRAIDING MACHINE ,AND RIBBON NEEDLE LOOM.
Credit Ocean Machinery & Electron Co., Ltd. is engaged in supplying and exporting textile machines and electronic products.Mainly exporting ribbon needle loom, crochet machines, warping machines, electronic jacquard needle loom machines, shoelace and bag lace tipping machines, high speed braiding machine and high speed cord knitting machine etc. we also can supply covering machine, automatic thread winding machine etc textile machine.

As a major supplier of these products in China, We persist in the principal "credit standing-keep promise, quality-keep improving, service-sincere management." we sincerely welcome customers old and
new to contact us.